20.09.2017
Islandi väljak 1, Tallinn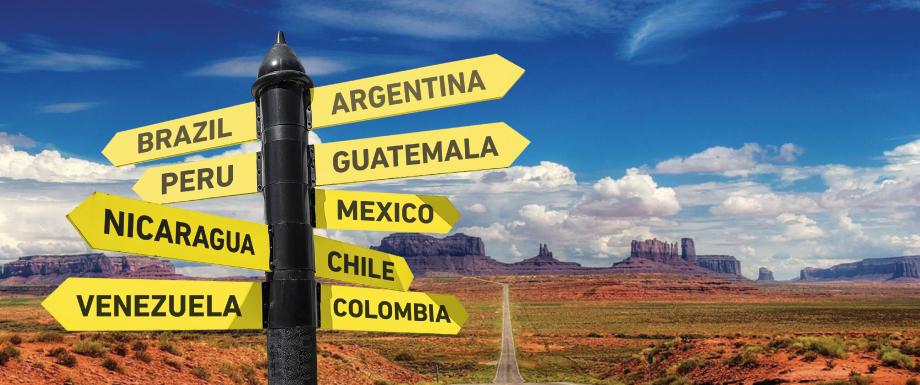 Participate in the first Latin America Forum!
Doing business in Latin American countries doesn't have to be the promised land for only a few bravest entrepreneurs – come hear about the experience of others and get acquainted with what is happening in the less talked about markets and the opportunities there!
agenda
8.30
Registration and coffee
9.00
Welcome
H.E. Mr Väino Reinart, Ministry of Foreign Affairs of Estonia
Mr Mait Palts, Estonian Chamber of Commerce and Industry
 
I SESSION: Country introductions
Moderator: H.E. Mr Mart Tarmak
9.20
H.E. Mr Facundo Vila "Business outlook in Argentina"
9.30
Mr. Almir Americo "Brazil: Business and Investment Opportunities"
9.40
Mr Luis Martinez "Successful business in Chile"
9.50
H.E. Mr. Francisco Gross Hernández-Kramer "Guatemala, the Heart of the Maya World"
10.00
"PERU: Country of Opportunities and Growth; Vision and Challanges 2017"
10.10
H.E. Mr Ricardo Alvarado "Nicaragua: Unique. Original."
10.20
H.E. Mr Ernesto Céspedes "Doing Business in Mexico"
10.30
Coffee break and networking
 
II SESSION: Opportunities from the EU perspective
Moderator: Mr. Carlos Vargas Alvarez del Castillo
10.45
Mr Javier Sanchez "Introduction to business culture: How Culture Affects Work Practices in Latin America. Overview of ELANBiz."
11.15
Ms Julie Clavijo "Overview of ELAN PROGRAMME: European & Latin American Technology Based Business Network and Business Services"
11.30
Mr Luis Fierro "Overview of EU-LAC Foundation"
11.45
Ms. Alejandra Castañeda  "Intellectual Property in Latin America: tips and common errors"
12.15
Mrs Giedrė Gatelyte "ICT Market study in Chile and Costa Rica for Baltic companies"
12.45
Lunch and networking
 
III SESSION: Case studies
Moderator: Ms Piret Potisepp
13.45
Mr Annar Alas, Coffee People "Trade with an autonomous Indian tribe in Colombia"
14.05
Mr Viktor Sära, Brillare "Venezuela – where everything is forbidden, except exceptions that are always allowed"
14.25
Mr Tiit Vapper, Real Systems "Would Mexico be a good market for Estonian software?"
14.45
Mr Markus Vajanne, Tramigo "From Tijuana to Ushuaia - 10 766 KM of Opportunities and Challenges"
15.05
Conclusions
15.15
Reception and networking
17.00
End of event
The languages of the Forum are Estonian and English, simultaneous interpretation is provided.
Latin America Forum is taking place in the framework of the Development Cooperation Project. The project is funded by the Estonian Foreign Ministry's Development Cooperation and Humanitarian Aid funds.
Moderator and speakers of Latin America Forum