07.10.2021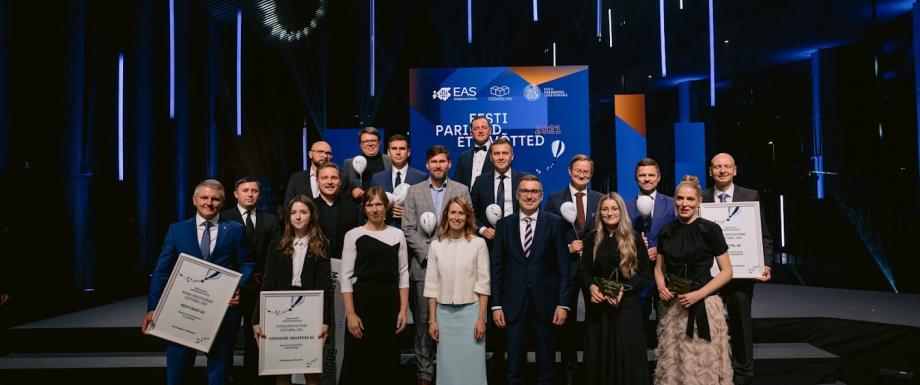 The Most Competitive Estonian Companies 2021 Announced
During the Entrepreneurship Week, the Estonian Chamber of Commerce and Industry recognised companies that ranked the highest in the various areas of activity of the Estonian Companies' Competitiveness Ranking. In total, 1,681 Estonian companies participated in the competition, of which the best of the 12 areas of activity were recognised.
 
Winners of the Competitiveness Ranking 2021 organised by the Estonian Chamber of Commerce and Industry:
EESTI GAAS AS, the most competitive large company.
KAPITEL AS, the most competitive small and medium-size company.
KIRKMAYER INDUSTRIES OÜ, the most competitive micro company.
 
The most competitive companies in 2021 by areas of activity:
TAVID AS, financial brokerage.
SELVER AS, retail.
KAPITEL AS, real estate.
MERKO EHITUS AS, construction.
DSV ESTONIA AS, transport and logistics.
SAKSA AUTOMAATIKA OÜ, architecture and project design.
EESTI GAAS AS, industry and energy.
LIVIKO AS, food industry.
SANDMANI GRUPI AS, wholesale.
TELIA EESTI AS, communications and IT.
NG INVESTEERINGUD OÜ, service.
VESTMAN ENERGIA OÜ, agriculture, fisheries and forestry.
The aim of the Companies' Competitiveness Ranking is to facilitate improvement of the Estonian companies' competitiveness and promote faster growth of the Estonian economy. The ranking highlights the most successful companies. It is a great opportunity for successful companies to introduce themselves to the public, and through that secure their competitive position even further. The history of the Estonian Companies' Competitiveness Ranking dates back to the year 2003.
Technical calculations and drawing up of the ranking is provided by the Estonian Institute of Economic Research that cooperates with the Lausanne Institute for Management Development. The Competitiveness Ranking highlights companies that express the wish to participate, comply with the conditions foreseen according to the methodology and submit the required statistical data on their economic activities during the past two years: sales revenue, net profit, labour costs, equity and average number of employees.
 
Additionally, based on the data submitted by companies, the Estonian Institute of Economic Research calculates several important indicators: change in sales revenue compared to last year, change in profit compared last year, equity margin, average labour cost per one employee per month during the reporting year, productivity per employee per year, created additional value (in this methodology profit + labour cost).
The Competitiveness Ranking is a part of the largest entrepreneurship competition in Estonia, which is organised in cooperation of three organisations: Estonian Chamber of Commerce and Industry, Enterprise Estonia (EAS) and Estonian Employers' Confederation.