30.10.2017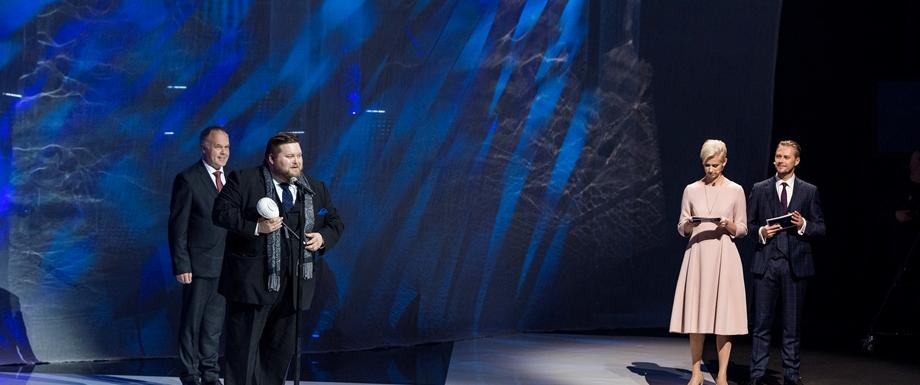 International electronics manufacturer Incap Electronics Estonia receives prestigious awards
In October, the Incap international team working with cutting-edge equipment at their facility on Saaremaa Island received prestigious recognitions, highlighting the company's performance results and contribution to the environment both at regional and international levels. Enterprise Estonia awarded Incap the 2017 Regional Enterprise of the Year Award and the Swedish Trade Council merited the company at the Swedish Business Awards ceremony with Sustainable Growth and Corporate Social Responsibility Awards.
Contributing to team growth and innovation in manufacturing technology, Incap is actively involved in the development of community-based values in the region and the training of a new generation of engineers, which was also what made the company stand out among other nominees for the Enterprise Awards. With the Regional Enterprise of the Year Award, Enterprise Estonia recognises economically successful and regionally important companies and sets them as an example. With their main activity these companies also contribute to the local living environment.
According to Otto Richard Pukk, Managing Director of Incap Electronics Estonia, the award came as a big surprise. "It is truly a great honour for us to receive this award. We have a fantastic international team that has come together on the small island of Saaremaa to do great things there. We are well aware that our contribution plays an important role in the progress of local life in Saaremaa, and our entire team is devoted to working on it," Pukk said. In addition to the award received, Incap also made it among the seven candidates shortlisted for the 2017 Enterprise of the Year Award.
From the small island of Saaremaa to everywhere in the world
In the 7,300 square metre facility in Kuressaare, around 80 highly qualified specialists work in shifts around the clock using high-tech equipment to deliver Incap electronics everywhere in the world. "Our customers include both established and starting electronics manufacturers whose products we help to manufacture. Today, you can find a piece of Incap in millions of Scandinavian homes as the "brain" of remotely readable electricity meters. Besides Scandinavia, our products also reach other places in Europe, North America and also Asia," Pukk said.
Thanks to the strategic reorganisation of the company, its strong teamwork and contribution to implementing innovations, the business results at Incap have doubled over the past two years. "We have made constant investments in production equipment and in developing our team. We believe that in order to continue to be a strong manufacturer, exporter and local employer, we need to invest in production so that we can offer a diverse range of products and services to our current and potential customers," Pukk stressed.
Sustainable growth requires responsible entrepreneurship
According to Pukk, over recent years the company has considered it more and more important that the business strategy of the growing company takes into account the surrounding environment and responsible business practices. This has brought Incap another prestigious award in October––the Swedish Business Award issued by the Swedish Export Council for sustainable growth and responsible entrepreneurship, where the other finalists included SEB Bank and the bedding manufacturer Wendre.
"As we supply our customers every year with millions of printed circuit boards, the "brains" of electronic devices that are set up in various electrical products, as well as finished products, this also involves a lot of packaging material. We have decided to recycle packaging to reduce Incap's ecological footprint," Pukk explained. "We have also introduced effective lean manufacturing principles at Incap and contributed to the safety of the working environment."
Incap's social responsibility is also symbolised by the label Family Friendly Employery received from the Ministry of Social Affairs this year. "As a big industry, we can never offer the same flexibility as companies where work is only done in the office––you can't take factory equipment home with you. At the same time, we want our employees to be happy with their work and we try to offer family-friendly working conditions also outside of Tallinn. I hope we can set an example to other companies with this," Pukk explained. Incap has also contributed to the development of the field of electronics, offering training for other companies in the region, mentoring young people interested in engineering and being one of the leaders of the Estonian Electronics Industries Association.
Awards laureate, Incap is a Saaremaa-based international manufacturer of electronic equipment that offers high-end electronics solutions manufactured in Estonia using the latest technology.