16.08.2021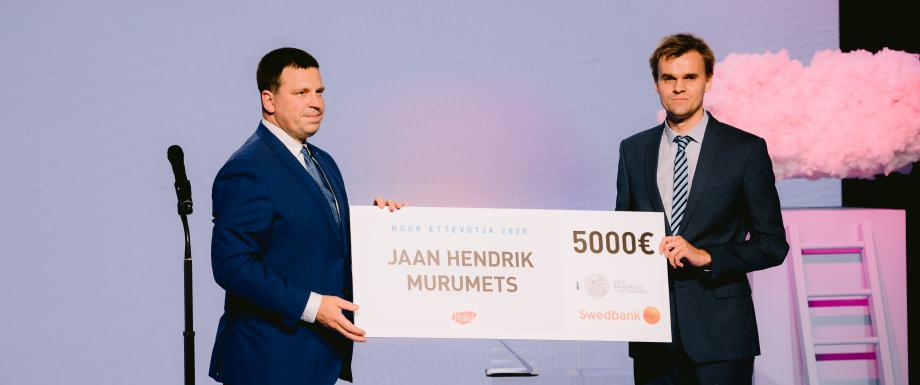 Young Entrepreneur of the Year Competition Starts
The Estonian Chamber of Commerce and Industry and LHV call on young Estonian entrepreneurs who are up to 35 years old, to apply for the Young Entrepreneur of the Year award. The aim of the award is to recognize and draw attention to the achievements of young entrepreneurs and encourage young people even more to take up entrepreneurship. The application round is open until 7 September and the winners will be announced on 7 October.
In addition to the honour and fame that the title brings, LHV will grant to the winner a prize of 5,000 euros. According to LHV's Head of Corporate Banking Indrek Nuume, it is important to give limelight to ambitious young entrepreneurs and set them as a role model.
"Our vision in LHV has always been to help people and companies think and do big. To be successful, you have to set high goals, do things with dedication and sometimes swim against the current. We root for Estonian companies and hope that there will be more and more young and ambitious entrepreneurs," says Nuume.
Mait Palts, Director General of the Estonian Chamber of Commerce and Industry says that noticing and recognising young enterprising people will help motivating the ones who are already working, but also the ones who have not started with entrepreneurship yet. "With the Young Entrepreneur of the Year award we notice and recognise young people who have creativity, determination and ambition to realise exiting and world-changing ideas. These young people are an inspiration for the future generation of entrepreneurs who see that dreaming of going to other planets or doing IT revolution in the agricultural sector is worth something," he says and encourages anyone who knows a young and enterprising entrepreneur, to submit them to the competition.
Last year, the title was awarded to Jaan Hendrik Murumets who is a cofounder and CEO of Krakul OÜ, a development company for the internet of things and autonomous systems. Among other things, last year Krakul developed cameras that go to the Moon with the NASA mission. "The Young Entrepreneur of the Year Award made Krakul better known that it had been so far, the initially very intense attention was actually even unexpected. But while earlier I had to explain a lot what Krakul does, now I can leave half of the introduction out," says Murumets and adds that Krakul has employed several very good new people who have expressed their will to work in such a cool company that among other things sends cameras to the moon. "Additionally, we have found new clients and we feel that our words carry more weight. Winning the award was recognition that we have done the right thing and done it well, and this still means a lot for Krakul," says Murumets.
The Young Entrepreneur of the Year competition is meant for owners and managers of companies registered in Estonia who are up to 35 years old and who have stood out in ensuring success of their companies, innovative use of their products, services or technologies, and who already export or have export potential.
To apply, application form has to be filled in and a digitally signed motivation letter has to be sent by 7 September 2021 – detailed instructions are available at www.koda.ee/et/meist/noorettevotja. Candidates can apply personally or can be set up by employees or customers of the applicant or professional organisations etc. A five-member committee will select the winner from among the submitted applications. The committee consists of representatives of the Estonian Chamber of Commerce and Industry, LHV and Office of the President as well as entrepreneurs. The award is funded by AS LHV Pank.
The Young Entrepreneur of the Year competition takes place for the seventh time.
Previously the award of the Young Entrepreneur of the Year has been given to:
2020 Jaan Hendrik Murumets, Krakul OÜ
2019 Ardo Kaurit, Ampler Bikes OÜ
2018 Robin Saluoks, OÜ E-Agronom
2017 Kristel Kruustük, Testlio OÜ
2016 Markus Villig, Taxify OÜ
2015 Indrek Ulst, Mooncascade OÜ
Photo: Young Entrepreneur of The Year 2020, Jaan Hendrik Murumets (Krakul OÜ) accepting the award from the then prime minister Jüri Ratas. (Photo: Rene Riisalu)