14.07.2022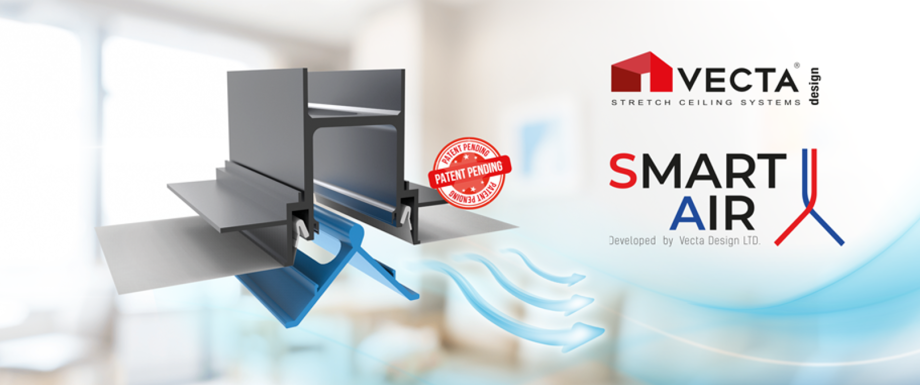 Vecta Design knows how to make your office breathe
Vecta Design Smart Air system -  an innovative approach to gentle ventilation and air conditioning.
Proper air exchange is essential for all types of premises. Homes and offices need to be able to breathe just like the lungs, enough fresh and clean air should come in and polluted must go out. It is important to choose high-quality ventilation that will cope with the needs for air exchange and provide a comfortable microclimate.
Did you know that ventilation and air conditioning can be provided in stretch ceiling systems? And that it can be integrated into any design or creative solution of the interior?
For this purpose, Vecta Design has developed a completely new ventilation profile diffuser - Vecta Design Smart Air.
We meticulously designed the Vecta Design Smart Air diffuser to disperse the flow of fresh air into small channels, giving it a set direction when it enters the room. The stale air in the room heats up, rises, and is cleared from the room through the same profile, through the area where the air chamber is not installed. This very effective air exchange minimizes the need for additional cooling. The Vecta Design Smart Air system can be used in both private and public spaces and easily connects to any existing ventilation system. The Vecta Design Smart Air support system allows you to quickly and easily install the profile on the base ceiling.
Optional, additional insulation of the air chamber allows the Vecta Design Smart Air system to be used in particularly hot countries and prevents excessive energy loss while cooling the room.
The result: the room enjoys an almost imperceptible flow of natural cooling or warming air that is silent and draft-free.
There are no restrictions on the area and size of the room! Vecta Design Smart Air is suitable for all kinds of applications: hotel resorts, health-care facilities, office buildings, shops and retailers but also for residential, sport or leisure facilities. It meets the needs and constraints of both new buildings and renovation projects. The ultra-slim and elegant diffuser profiles blend in perfectly with any architecture and allow you to create an almost invisible air diffuser system.
Benefits of Vecta Design Smart Air system are:
Conditioning your air through the ceiling.
Lowest Noise Level.
Optimized Air Flow. A breeze is silent and gentle. Our system produces a natural flow of air.
Quick installation and easy adjustable. The well-thought-out design and profile concept makes it easy to get into the ceiling structure without additional effort either to move the air-chamber to another position or to add additional air-chamber to increase fresh air flow where it is needed.
Air chamber with additional insulation. Mainly used in particularly hot countries.
Draft-free air distribution. The air exits vertically through small ducts and is finely dispersed, allowing a diffused, indirect, and comfortable air flow.
Eventually, you get fresh air with constant temperature and greater comfort for your wellness.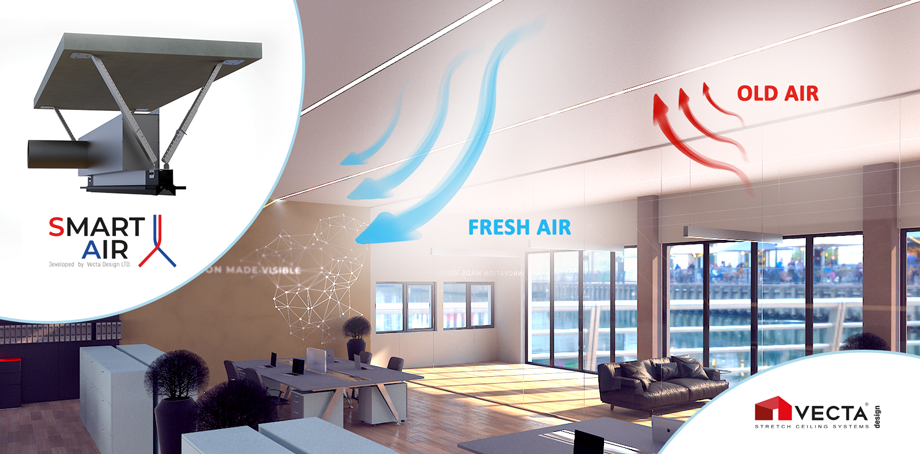 Contact us:
+372 44 23 023 – Landline
+372 5300 2424 – Mobile
Vecta Design Production:
Pärlimõisa tee 20, Pärnu, Estonia
info@vectadesign.com
Vecta Design Showroom:
Sepise 8, Tallinn, Tallinnas Ülemiste City
+372 5804 5402
tallinn@vectadesign