23.10.2018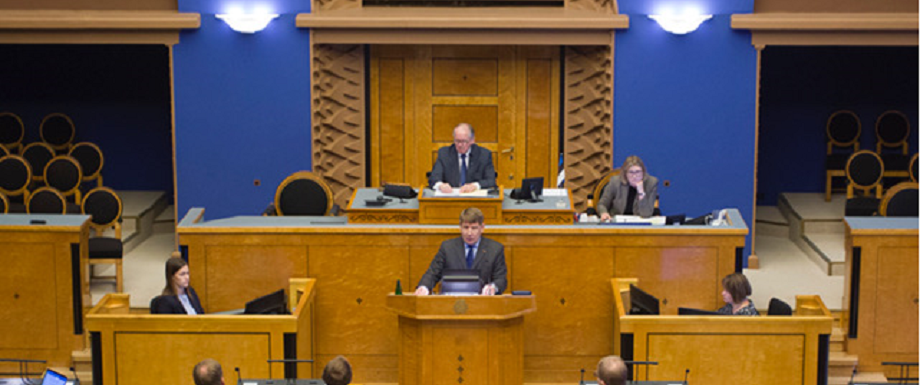 Tax System Must Be Simple, Efficient and Support Business Growth
On 9 October, the Parliament hosted a discussion on taxes, Tax System – Chaos or Consideration. In addition to the President of the Estonian Chamber of Commerce and Industry, the speakers included Jürgen Ligi, head of the Estonian Reform Party faction and Dmitri Jegorov, Deputy Secretary General for Tax and Customs Policy of the Ministry of Finance.
Toomas Luman, President of the Estonian Chamber of Commerce and Industry said while speaking to the Parliament that history has proven that the impact of changing a tax system are never linear and therefore it is important when planning them to consider the positions of entrepreneurs as well as scientists. "When forming tax policies, we are not racing cars, where each second counts and decisions must be made in a heartbeat," said Luman and emphasised that the existing corporate income tax system must be maintained, because it works and supports investments of businesses. When we look at the share of income tax of legal entities in the total tax revenues, it is revealed that the Estonian companies are paying income tax essentially as much as companies in Germany where there is a nearly 30% traditional corporate income tax. Thus, we cannot claim that our companies are not paying tax or are paying too little.
In conclusion, Luman added that
tax amendments must facilitate the growth of competitiveness of companies and the business environment as well as welfare of the society;
tax rates must be competitive in the region;
it is necessary to restore the tax stability rule of six months of minimum foreseeability – according to its initial idea;
the law must enable establishing binding results within a longer period of time;
each tax amendment must be assessed for cost on collection from the perspective of entrepreneurs as well as the state;
the corporate income tax system must be maintained by contributing to its protection internationally.
Being the largest and oldest Estonian business organisation, the Chamber stands for keeping the tax system as simple and bureaucracy free as possible and contributing to the growth of additional value. Tax changes must be foreseeable, based on analysis and take into account the international competitive situation.