20.11.2018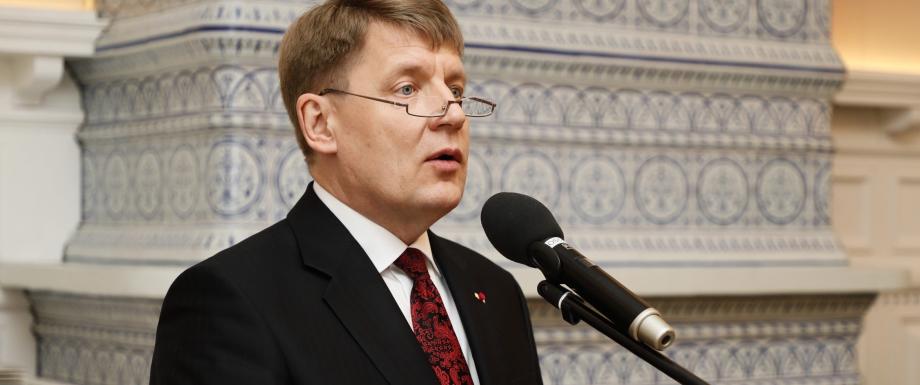 Speech of Toomas Luman at the 93rd Anniversary of the Chamber of Commerce on 15.11.2018
Honourable Speaker of the Parliament, Ministers, Your Excellencies, entrepreneurs, dear guests!
The Chamber of Commerce celebrates its 93rd anniversary this year. Today, the Chamber has exactly 3240 members. More than half of them are companies that employ only 1-9 employees – so we can say that the Chamber continues to be the biggest umbrella organisation for large and small companies. The contribution of the members of the Chamber to the State Treasury is approximately 40% of the tax revenue. It shows that our members continue to be very active in the economy. Approximately 80% of our members perform regular transactions with foreign partners and the Chamber continues to have offices in Pärnu, Tartu, Jõhvi and Kuressaare – all in the name of being close to its members. This is a short description of the Chamber as it is today.
When we look at the services provided by the Chamber to its member and the continued high demand for them by the members, we can be happy that we are doing the right thing and developing continuously. This is one of the main benefits of an organisation with a voluntary membership – unlike many other public and private sector service providers, we must always set the satisfaction of our members as the goal for our activities and we must develop our organisation accordingly. I do not believe that an organisation whose revenue comes from the state budget or depends heavily on it, could ever be as close to the entrepreneurs or offer needed services as efficiently as we can. Total independence of public funds is the basis for the success of a private entrepreneurship organisation.
In addition to the versatile package of services, we continue to influence the state policies to make them more favourable for entrepreneurs. This year, we have sent the opinion of entrepreneur more than 100 times. Furthermore, we constantly participate in working groups and discussions, presenting the positions of entrepreneurs and making sure that the business environment is as entrepreneur-friendly as possible.
Among other things, we recently participated with a presentation at the discussion of a question of national importance concerning the tax policy at the Parliament.
As taxes, levies and other monetary fees have always been of interest for entrepreneurs, tax policy is certainly one of the topics that we will be keeping on our desk during the coming year. However, as I have emphasised before, it is clear that tax policy is not a thing in itself. If we want to achieve clear goals in the economic, social or even population policies, tax policy is often an undisputable tool for achieving them. But it is not necessarily the only or the most important one. Believing that taxes make everything better, is wrong. Changing the tax system may help to achieve something, but it may also destroy what has already been achieved. Destroying is always easier than building. We should all keep that in mind. One of our main goals in developing various state policies and expressing opinion during their formation is to increase competitiveness of entrepreneurs and economy. Taxes are important and when making any amendments, entrepreneurs must be heard, and research competence must be included in the process.
In addition to the aspect of competitiveness, planning each tax amendment should always include assessing its impact to the collection, because we are not that rich to be able to afford inefficient taxes, the collection cost of which is so high that makes up the bigger part of the planned additional revenue.
In addition to the tax system that supports growing competitiveness, liberal foreign trade policy, flexible employment relations regulations, the Chamber has always stood for developing education policy. I would rather not speak of higher education today, but I would like to touch upon two topics of which we have spoken about a lot recently and which we believe in. In order to achieve better level of knowledge for our people and higher concentration of people in the society who are professionally trained, we must search for better synergy between high schools and vocational schools. In the perspective of future, treating general education and vocational education separately is unjustified. We are facing the decreasing number of teachers and students. If we think about it, it would be logical as well as efficient to move, physically and in essence, towards enabling the vocational and general secondary education to be acquired together in more cases than before. We do not consider it reasonable that new state high schools are erected separately from the vocational education centres. They can be kept together. Thereby we create synergy in the quality of learning and give young people more choices.
And secondly. I am still convinced that organising basic education can be successful in the future only if it is organised uniformly across the country and by the state. For sure, in many cases we must take into account and ensure inclusion of local communities into the development of the schools, but questions related to the upkeep of the school, salaries, study levels and quality of teachers must be decided on the national level. Even if statistics do not always reflect it, in reality the differences in the level of general education are worrying. And unfortunately, I do not see how it could be ensured on the necessary level in the future only by local municipalities. There is nothing to do, organising basic education in a small country is possible only on the state level. This is the message I would like to end with.
As a tradition for the anniversary of the Chamber, we recognise the companies and organisations that have been our members for a long time. We do that also today. I am happy to present the letters of recognition to three organisations who celebrate a membership jubilee this year.
1. Baltika AS, 90 years Member of the ECCI
2. Standard AS, 70 years Member of the ECCI
3. Türi Bel-EST OÜ, 40 years Member of the ECCI