30.10.2017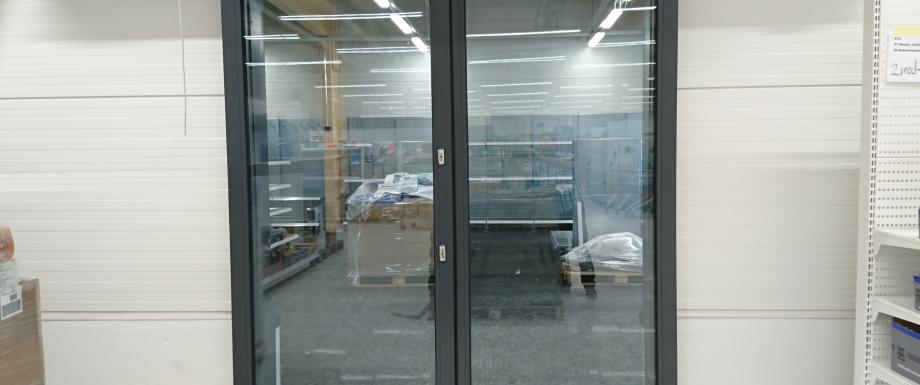 Saku Metall Uksetehas AS has launched the new Fire-resistant Sliding Door EI30 to the Finnish and Swedish market
Estonian company Saku Metall Uksetehas AS has added the new Fire-resistant Sliding Door EI30 with smoke protection to their product family. Juha-Heikki Savanlampi, the Scandinavian Sales Manager of Saku Metall Uksetehas AS sees the biggest market potential for this product in Finland and Sweden.
"Public buildings like hospitals and shopping malls have to meet very strict fire resistance requirements and the doors have to be extremely durable as well. Our steel profile fire-resistant sliding door EI30 is the best choice in those circumstances", he declares.
The new Forster Fuego light automatic door with fire and smoke resistance combines the benefits of maximum barrier-free clearances with the maximum transparency of slender, fully glazed steel constructions. Class EI230 fire barrier door stops the spreading of fire and isolates the heat from the fire for at least 30 minutes.
Recommended use
Fire-resistant doors are used for additional safety in case of building fires. Sliding doors are used in seperation walls of room, if opening of door must create as large aperture as possible or there is no room for opening of usual door. Because of large glass surface, this door is especially suitable to separate fire barrier sections in places, where there are many people moving around – schools, hospitals, boiler plants, stairways and halls of office buildings and other public buildings. The door is intended for indoor use in dry and heated rooms where there is no direct contact with chemicals and no corrosive environments.
Benefits
Barrier-free, without threshold
Installation in masonry, lightweight walls and glazings
Tight closing on all four sides
Guide rollers subsequently adjustable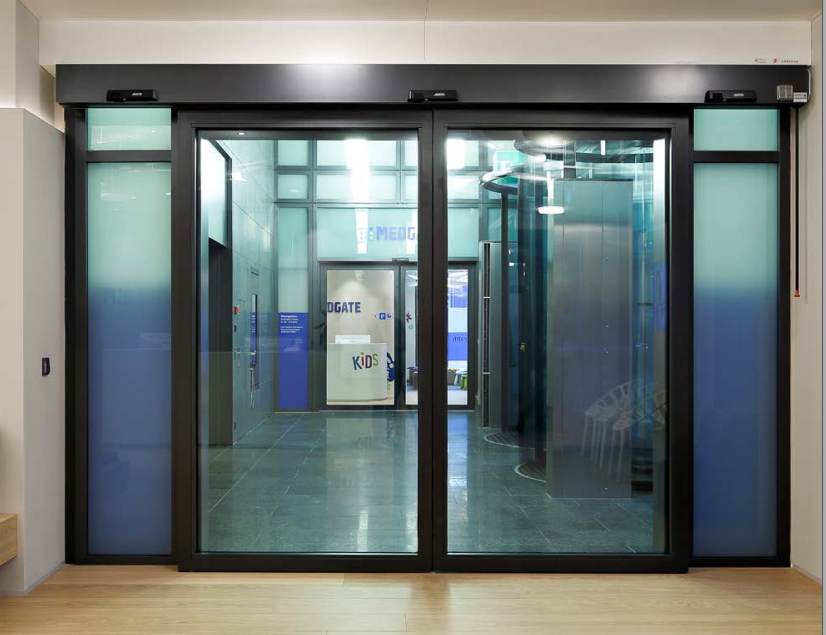 Dimensions
Maximum dimensions of the door light aperture are (width x height): 2600×2500 mm. Maximum dimensions of the door with the upper and side are (width x height): 3110x3320mm. Maximum height of the top lights: 600 mm; maximum width of the side light: 360 mm.
Conformity certificate
Fire-resistance has been tested in German IFT Rosenheim laboratory according to standard EN1634-1 and certified by Finland VTT EXPERT SERVICES OY in accordance with the standard EN13501-2 with a certificate no.VTT-RTH-00055-16, which ensures the EI230 fire resistance class.
Construction
Slide door leaves, side and upper parts are made of quality steel profile Forster Fuego Light produced by Swiss manufacturer Forster Profile system AG. Door leaves are attached from the top to the opening-closing device and does not need any installations in floor at door aperture, which could obstruct walking or hinder floor cleaning. Doors are equipped with fire and smoke-proof seals. Door is coated with polyester powder coating. Standard tones are RAL9010 (pure white), RAL7001 (silver grey), RAL8014 (sepia brown), RAL9007 (grey aluminium), RAL7024 (graphite grey), RAL9006 (white aluminium). Alternatively the door can be painted with epoxy primer and two component polyurethane paint in all the tones of RAL catalogue.
Glasses
Only EI230 fireproof glass Pilkington Pyrostop 30-20 is used.
Closing device
Sliding door operator system DORMA ES200
Accessories
The door is equipped with an automatic opening system, which control system offers a great variety of uses (photo detectors, radar, switches, code controllers etc).
Maintenance
Door must be checked and maintained at least once every three months. Check closing of door and operation of automatics and locking elements. Detailed information is available in maintenance manual. It is possible to sign a maintenance contract upon purchasing the door.
Construction variations:
Fire-protection closures
Combination of fire and smoke protection closures
Structural attachements to:
Concrete walls and masonry
Lightweight walls
Glazings forster fuego light EI30
Glazing / Panels
Large selection of approved fillings, glass/panels
Dry and wet glazing
Automatic closing, EN 1191
In case of fire mechanical self-closing
Controlled closing velocity 0.08 m/s
Controlled closing force 100 – 180 N
Barrier-free construction, DIN 18040
Without threshold
Autom. opening during daily operation
Safety in use
DIN 18650 / EN 16005
See Forster construction variations
In combination with the drive manufacturer
Saku Metall Uksetehas AS is an Estonian company founded in 1991 that offers internal and external doors: metal doors, profile and sliding doors with big glass surfaces, and sectional overhead garage and industrial doors.
Further information: sakumetall.ee/en/