15.10.2021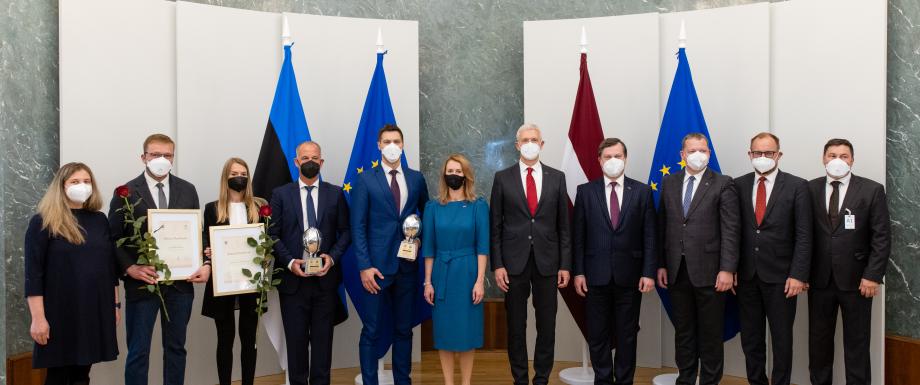 Estonian and Latvian Prime Ministers Presented the Livonia Award to Lux Express and Air Baltic
On 15 October, the Livonia Award was presented at the meeting of the Estonian and Latvian Prime Ministers in Riga. Traditionally, the award is given to one Estonian and one Latvian company who have contributed to the economic and entrepreneurship landscape of the neighbouring country. This year, the award was given to Lux Express from Estonia and Air Baltic from Latvia.
Estonian Prime Minister Kaja Kallas emphasised the importance of good neighbourly relations with Latvia while presenting the award. "Therefore it is also important to recognise companies who are actively involved in the promotion of entrepreneurship and business relations in both countries. Both of today's laureates of the Livonia Award have outstandingly done that, and at the times of the pandemic, when the options for transport dwindled overnight, they helped our people to get home," said Kallas.
"For small countries like Estonia and Latvia, it is extremely important to have companies that develop active business relations with the neighbouring countries. While under normal circumstances we take cross-border activities for granted, the past two years have shown that the situation can change very quickly. During the difficult times, Lux Express and Air Baltic have helped to ensure freedom of movement for our people, be it from abroad to their homes or from homes to other countries," said Mait Palts, Director General of the Estonian Chamber of Commerce and Industry and added that although the digital means of communication have come to our lives and will remain with us in the future, it is clear that the free movement of people and goods continues to be a natural need for all of us.
Lux Express has operated bus lines between Estonia and Latvia for over 20 years and continued its services, if possible, also during the Covid-19 crisis. The company's continued investments into the development of their business and vehicle pool are evidenced by the use of the newest buses with the most modern technology and conveniences. Lux Express operates in 7 countries and has offered Latvia key connections to other neighbouring countries such as Poland, Lithuania, Russia and Belarus. Partnership with Lux Express was an important support for Estonia when bringing Estonian citizens back from many corners of the world through our neighbouring countries during the first weeks of the virus crisis.
Air Baltic has continued offering essential connections for Estonia during the period of pandemic and today the company is holding the market leader position in Tallinn. During the past years, Air Baltic has significantly extended its activities at Tallinn Airport, currently offering 15 direct flights.
The Livonia Award was started Livonia was started by Latvian entrepreneurs operating in Estonia in 2013 and since 2017 the award is presented each year to one Latvian and one Estonian company by the Latvian and Estonian Chambers of Commerce and Industry. The aim of the awards is to recognize the most successful Latvian company on the Estonian market and Estonian company on the Latvian market, promote Latvian and Estonian entrepreneurship, corporate social responsibility and mutual awareness of Estonia and Latvia; promote export of Latvian and Estonian products and services to each other's markets and increase competitiveness of Latvian and Estonian companies.

Winners of the award since 2017:
2017 – Tallink and Latvian egg producer BalticOvo
2018 – Latvijas Maiznieks (investment of Eesti Pagar in Latvia) and Valmiermuižas Alus
2019 – Latvijas Finieris and Graanul Invest
Cover photo: Jürgen Randma