12.12.2022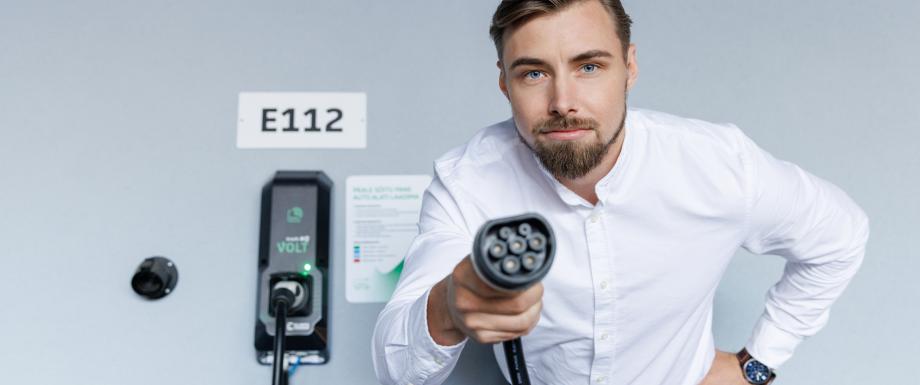 Enefit is expanding its reach in the market of electric car charging services
This year, Eesti Energia/Enefit started providing smart electric vehicle charging solutions for businesses and private customers in Estonia, Latvia, Lithuania, and Poland. Enefit plans to take the public charging market by storm in 2023 in all four countries with an ambition to install more than 1,000 chargers, thus becoming the largest player on the market from Tallinn to Krakow.
Eesti Energia, internationally known as Enefit, started providing charging services for electric cars three years ago and now operates the largest charging network in Estonia with nearly 200 public chargers. Smart complete charging solutions for businesses and private customers as well as apartment buildings have been developed in a short period of time.
At the beginning of 2022, a smart charging service suitable for all electric cars was introduced for the first time in Estonia, allowing to save up to 50 percent on charging costs by automatically following the best electricity prices. According to Kert Pääbo, Business Manager for Charging Services at Enefit, smart charging makes owning an electric car more affordable, convenient and easy, because in order to use the cheapest electricity, you only need to do two things: connect the charging cable and disconnect it afterwards. Everything else is done by the mobile application.
Smart charging is suitable for both businesses and private customers
"It is clear that large fluctuations in the price of electricity will continue for a long period of time, but our application helps monitor the prices for your electric car charging," Pääbo said. "People don't usually drive more than 50 kilometres a day, and the electricity needed for this can easily be received during cheap hours with our smart home charger. Considering that the price of a litre of petrol is already nearly €2, you will spend more than €2,000 on motor fuel even with an annual mileage of less than 20,000 kilometres."
At the end of 2022, Enefit's smart charging service became available to customers in Latvia, Lithuania, and Poland as well. "We wish to provide our customers with similar high-quality services, regardless of the country, and thus be a reliable energy partner for both local and international companies. Electric car charging services are undoubtedly part of such a partnership in today's world," Pääbo added.
A public network covering four countries
While until now, Enefit's public charging services have only been available in Estonia, next year will be groundbreaking for the company in the development of its fast charging network. By the end of next year, the plan is to expand the charging network to nearly 1,000 chargers, literally from Tallinn to Krakow. Although work has started on finding locations and partners, companies interested in cooperation are welcome to get in touch.
"The development of a public charging network in the Baltic countries and Poland allows us to provide our customers with a comprehensive charging solution, regardless of whether they want to charge their electric cars at home, at work or on the road," Pääbo said. "Charging an electric car while on the road should not cause additional traffic and inconvenience, but should be part of people's daily trajectories. Therefore, it is important to expand the charging network by focusing on shopping malls, grocery stores, fast food chains and accommodation establishments. It's clear that customers using electric cars prefer locations with a charging option."
More detailed information about Enefit's services is available at www.enefitvolt.com, or on Enefit's websites in Latvia, Lithuania and Poland.