Leading Brands of Estonia Out Now
30.11.2016 The Estonian Chamber of Commerce and Industry celebrated its 91st anniversary on 10 November. At the reception gala, the Chamber introduced its newly published book Leading Brands of Estonia.
The book brings together the leading brands of 50 Estonian companies and its aim is to introduce Estonia as a country with innovative and developed economy and to promote our brands. The book helps companies find new cooperation partners in Estonia and abroad, thereby contributing to the growth of Estonian exports.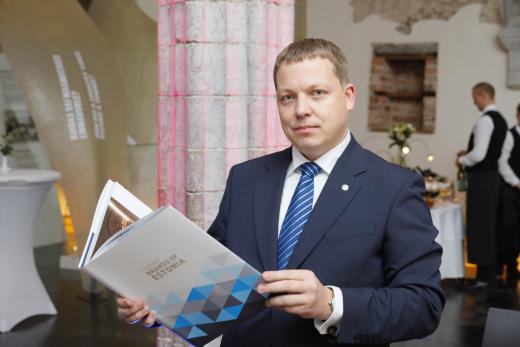 Photos: Kalev Lilleorg
"The target group of the book is mostly people from abroad, to introduce Estonian brands and companies to them, that is why this is an excellent gift to give to your foreign guests or cooperation partners," said director general of the Estonian Chamber of Commerce and Industry Mait Palts. Palts added that the book gives a very good overview of the Estonian brands that have the strongest export potential.
"Estonia has many products and services, which we are proud to present to the world. In addition to the much talked about fresh air and pristine nature, we have successful haute couture, our design is of world class, our pianos are among the best in the world, our wooden houses are conquering the markets near and far, and nobody doubts the deliciousness of Estonian food. Being a leading business organisation, it is our mission to introduce our successful companies abroad and facilitate their promotion," said Palts.
"A brand is just an image of an idea. It is as strong as the collective belief in such idea. The belief in turn is created through the created values and trust that must be taken care of carefully," said owner of the Pädaste manor and brand Imre Sooäär.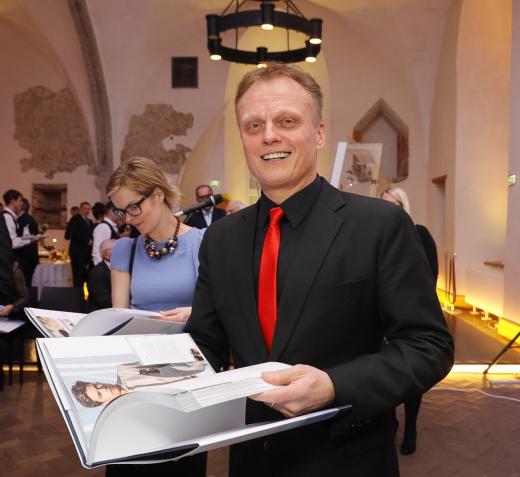 In his words, the owners of Pädaste have committed their souls to this brand. "I believe that if you feel the touch in a brand, that is what attracts people. I am sincerely happy that through Pädaste, the small island of Muhu is also among the 50 chosen ones. This is a recognition and thanks to everyone who has helped to keep our idea alive, to our clients, people on the island to whom this brand has provided work for already 20 years," Sooäär expressed his gratitude.
The following criteria were used for selecting the companies and brands:
a brand has been created in Estonia and it has a recognisably Estonian origin,
a brand is widely known in Estonia,
a brand is positioned as an Estonian brand,
a brand has export potential or is already internationally used.
The brands were chosen by Kaja Kallas (European Parliament), Kristian Kirsfeldt (Velvet OÜ), Kristi Tiivas (Government Office), Meelis Milder (Estonian Chamber of Commerce and Industry) and Mait Palts (Estonian Chamber of Commerce and Industry).
Brands presented in the book are:
A. LE COQ, ALEXELA, AMANJEDA, APOLLO, LILLI JAHILO, REET AUS, BALBIINO, BALTECO, BALTIKA, BLRT, BOLEFLOOR, BORG, CHEMI-PHARM, CYBERNETICA, D´DIFFERENCE, DEFENDEC, DELFI, E-PIIM, EBS, ESTONIA PIANO FACTORY, ESTRAVEL, GRAANUL INVEST, HAAPSALU UKSETEHAS, HARJU ELEKTER, HUUM, JOIK, KAUBAMAJA, KITMAN THULEMA, LIVIKO, LOODUSVÄGI, MATEK, MEIREN ENGINEERING, NORDECON, NORDIC HOUSES, NORTAL, OLYMPIC, PREMIA, PÄDASTE, ROMAN TAVAST, SAKU, SANGAR, SELVER, STANDARD, STARMAN, TAHE OUTDOORS, TALLINK, TALLINNA TEHNIKAÜLIKOOL, TARTU ÜLIKOOL, WENDRE, KRIMELTE, 4ROOM.
The book is distributed to foreign embassies, ministries and other organisations that introduce Estonian companies, and a portion of the books will be sold as a gift book. This book is an excellent gift for guests from abroad to introduce Estonian businesses.
The first Leading Brands of Estonia was published by the Chamber in 2008. This time, the book was put together in cooperation with Menu Meedia OÜ.
If you wish to purchase the book, please contact gerly[at]koda.ee. The book costs 50 eur, VAT of 9% will be added. Special prices apply for larger orders. The book is an excellent opportunity to become acquainted with and introduce leading brands of Estonia.