23.09.2022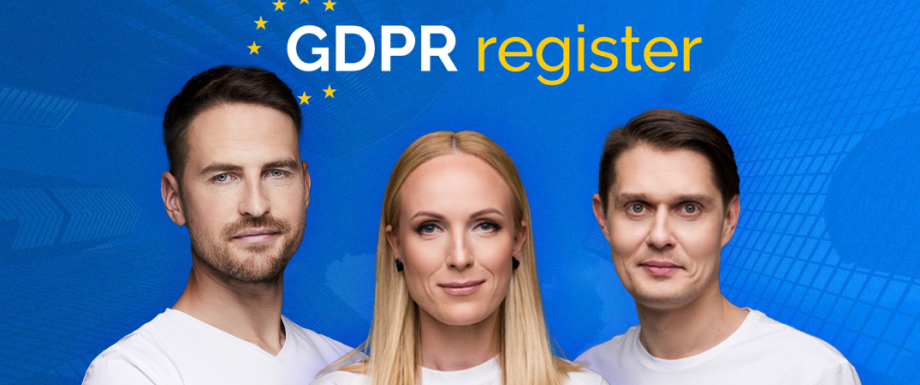 Estonian startup makes complying with GDPR easy
GDPR is only three years old, but it has changed how corporations and the public perceive personal data – by bringing rights to people and obligations to businesses.​ GDPR Register was born out of that real pain. How to comply with the General Data Protection Regulation in a time- and money-saving manner?
Let us use an analogy - accounting used to be done on spreadsheets, but there are no accountants that work ​without software anymore. Yet most Data Protection Officers (DPOs) - ensuring that companies are GDPR compliant - are still working with Excel and Word documents.
As a result:
DPO is alone in its tasks
Collaboration with stakeholders is complicated
Information is fractioned​
Task sharing is ineffective and insecure​
Information is out of date
Altogether, this may lead to incomplete or outdated documentation, which results in failure to comply with GDPR principles. This can become very costly as European regulators impose hefty fines on noncompliant businesses. Not to mention that each year the general public is more aware of their privacy rights, which increases the risk of claims.
Compliance is becoming more expensive
Modern business processes a lot of personal data using lots of tools and external partners. Compliance projects need to cover all aspects of business and provide necessary tooling and reporting. The annual salary of a DPO (Data Privacy Officer) can easily reach €100k, but DPO is typically overloaded with work and instead of ensuring compliance, is fighting fires. 
Enter GDPR Register – a time-saving tool that helps privacy teams gain control over compliance documentation. Co-founded in 2019 by Merlin Seeman and Toomas Seppel, both lawyers at Hedman Law Firm, the company already has an impressive client list both in Estonia and abroad. The biggest foreign market being Germany. For that very reason the company is scouting for a German country manager.
Data privacy market is huge
Estonian unicorn Bolt and big retailer Kaubamaja Group were the first customers. There's also United Shipping Services, a leading European holding company owning and actively managing transportation companies; Hendrix Genetics, a multi-species animal breeding, genetics and technology company; Tehy, a trade union in Finland, etc.
The global data privacy software market is projected to grow from $1.57 billion in 2021 to $17.75 billion in 2028.
An estimated 500 000 organisations had registered DPOs by 2019, and this number is growing year by year as the regulations are getting stricter and fees higher.