Leading Brands of Estonia
Leading Brands of Estonia is a book that introduces the leading brands and companies of Estonia and has been published twice (in 2008 and 2016).

The brands selected for this book were created in Estonia and are well known in Estonia and abroad.
The deciding factor was the company itself defining its brand as an Estonian brand and being actively involved in branding.

The Chamber invited the following brands to participate in this book: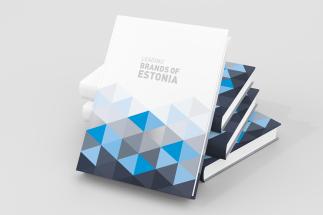 A. LE COQ, ALEXELA, AMANJEDA, APOLLO, LILLI JAHILO, REET AUS, BALBIINO, BALTECO, BALTIKA, BLRT, BOLEFLOOR, BORG, CHEMI-PHARM, CYBERNETICA, D´DIFFERENCE, DEFENDEC, DELFI, E-PIIM, ESTONIAN BUSINESS SCHOOL, ESTONIA PIANO FACTORY, ESTRAVEL, GRAANUL INVEST, HAAPSALU UKSETEHAS, HARJU ELEKTER, HUUM, JOIK, KAUBAMAJA, KITMAN THULEMA, LIVIKO, LOODUSVÄGI, MATEK, MEIREN ENGINEERING, NORDECON, NORDIC HOUSES, NORTAL, OLYMPIC, PREMIA, PÄDASTE, ROMAN TAVAST, SAKU, SANGAR, SELVER, STANDARD, STARMAN, TAHE OUTDOORS, TALLINK, TALLINNA TEHNIKAÜLIKOOL, TARTU ÜLIKOOL, WENDRE, KRIMELTE, 4ROOM.

The aim of Leading Brands of Estonia  is to introduce Estonia as a country with innovative and developed economy and to promote goods and services created here. The Chamber believes that the book increases popularity of its participants, helps to find new cooperation partners and thereby increases Estonian exports.

The book is distributed to foreign embassies and business representation organisations, ministries and some are sold in bookstores as a gift book. This publication is an excellent gift for foreign guests in order to introduce business in Estonia. The committee of the book was called by the Chamber of Commerce and Industry and it consisted of Kaja Kallas, Kristi Tiivas, Kristian Krisfeldt, Meelis Milder and Mait Palts.